[Back]
Center for Policing Innovation (TRCPI)
Phillip Lyons
Executive Director
Ph.D. Forensic Clinical Psychology, University of Nebraska-Lincoln (1997)
M.A. Forensic Clinical Psychology, University of Nebraska-Lincoln (1994)
B.S. Psychology, University of Houston-Clear Lake (1988)
A.A.S. Law Enforcement and Police Administration, Alvin Community College (1983)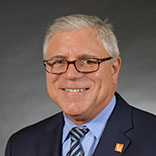 http://www.cjcenter.org/trcpi/
Office: A-254
Phone: (936) 294-1700
Areas of Expertise:
AIDS and the Law, Child Mental Health Service System; Child Protection, Child Rights, Clinical Psychology Assessment/Training, Community Policing, Forensic Psychology, Law and Psychology, Law Enforcement Issues, Policing and Law Enforcement, and Gay, Lesbian, Bisexual, and Transgender Issues in Criminal Justice
Biography:
Dr. Phillip Lyons was appointed the sixth Dean of the College of Criminal Justice in September 2015 after serving as Interim Dean for a year. Dean Lyons joined the faculty of Sam Houston State University in 1995 and served as an associate professor and in several administrative roles, including as Interim Chair of the Department of Security Studies, Director of the Division of Professional Justice Studies, and Executive Director for the Center for Policing Innovation.
In 2012, Dr. Lyons was named the first recipient of the David Payne Academic Community Engagement Award at SHSU, which recognizes excellence in community engagement through teaching, research and service. He also designed, developed, and implemented a community policing internship program with students in residence at Sam Houston for a year from the Zhejiang Police College in Hangzhou, China. Dr. Lyons has written or coauthored dozens of scholarly and professional works, including books, book chapters, and journal articles, many of which are published in some of the leading journals of his field. He also was selected by his peers to serve a three-year term on American Psychological Association's prestigious Committee on Legal Issues.
Before joining SHSU, Dr. Lyons completed a year-long, pre-doctoral internship in Forensic Clinical Psychology at the Federal Medical Center in Fort Worth, an institution within the Federal Bureau of Prisons, and spent several years as a law enforcement officer in the Hillcrest Village Marshal's Office, the Alvin Community College Police Department, and the Alvin Police Department.
Dean Lyons received M.A., J.D., and Ph.D. degrees at the University of Nebraska-Lincoln.