[Back]
Faculty
Sam Souryal
Professor
Ph.D. Political Science, University of Utah, Salt Lake City
M.P.A. State University of New York at Albany
B.A. Education, American University in Cairo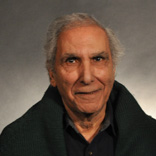 Office:
Phone: (936) 294-1643
Areas of Expertise:
Comparative/International Criminal Justice Issues, Criminal Justice Management and Administration, Ethics and Justice Issues, Law Enforcement Issues, Police Issues
Biography:
Sam S. Souryal is professor of Criminal Justice and Ethics at the College of Criminal Justice, Sam Houston State University in Huntsville, Texas. He received a BA degree in Education from the American University in Cairo, a Masters Degree in Public Administration from the State University of New York at Albany, and a Doctorate of Philosophy in Political Science from the University of Utah, Salt Lake City.
A former police officer and public manager, Dr. Souryal taught public administration, organization theory, and police management courses at the University of Wisconsin and Sam Houston State University. He published Police Administration and Management (West Publishers, 1977), Police Management and Organization (Andersons, 1992), Ethics in Criminal Justice: In Search of the Truth (Anderson, 2003), and Islam, Islamic Law, and the Turn to Violence (OICJ, 2004).
Dr. Souryal is a regular presenter at the Texas Law Enforcement Management Institute (LEMIT); International Law Enforcement Academy (ILEA), Texas Probation Commission Training; and the American Corrections Association.
He lectured at the FBI Academy and was featured in a 3 hour ACA videotape on Ethics in Corrections. In 1999, he served as the Representative of the High Commissioner for Human Rights in Indonesia.
A multi-lingual educator, Dr. Souryal has lectured in England, Germany, China, Taiwan, Egypt, Saudi Arabia, Yemen, Indonesia, Hungary, Mozambique, Botswana, and East Timor. His continued involvement in both comparative and American criminal justice has earned him national and international recognition.