[Back]
Faculty
Sam Souryal
Professor
Ph.D. Political Science, University of Utah, Salt Lake City
M.P.A. State University of New York at Albany
B.A. Education, American University in Cairo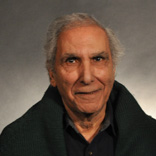 Areas of Expertise:
Comparative/International Criminal Justice Issues, Criminal Justice Management and Administration, Ethics and Justice Issues, Law Enforcement Issues, Police Issues
Publications:
Criminal Justice as Civility. Anderson Publishers, in progress (expected date of completion August, 2007).
Ethics in Criminal Justice: In Search of the Truth (fourth edition), a 445-page textbook in the theory and practices of ethics and professionalism in Criminal Justice, Anderson Publishers, August, 2006.
Islam, Islamic Law, and the Turn to Violence. The Office of International Criminal Justice (OICJ), 2004
"Athenians and Spartans in Criminal Justice Academic Administration," accepted for publication, Journal of Criminal Justice, 2006.