[Back]
Department of Security Studies
Nadav Morag
Chair
Ph.D. Political Science, Tel Aviv University (2000)
M.A. Political Science, University of California, Los Angeles (1990)
B.A. Political Science, University of California, Los Angeles (1987)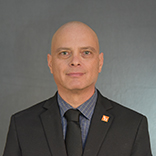 No Vita
www.shsu.edu/securitystudies
Office: C-103
Phone: (936) 294-4128
Areas of Expertise:

Biography:
Dr. Nadav Morag is Associate Professor and Chair of the Department of Security Studies at Sam Houston State University. He also serves on the faculty of the Center for Homeland Defense and Security (CHDS), Naval Postgraduate School in Monterey, California where he teaches senior homeland security officials.
He previously served as a Senior Fellow at The George Washington University's Homeland Security Policy Institute and the Los Angeles County Sheriff's Homeland Security Advisory Council. Prior to that, Dr. Morag served as Senior Director for Domestic Policy and subsequently as Senior Director for Foreign Policy, at Israel's National Security Council, Prime Minister's Office. At the Israeli NSC, Nadav worked with a team of ten other senior officials from the Israeli Military, Domestic Security Service, Mossad, Foreign Ministry and Police developing policy recommendations for then Prime Minister Ariel Sharon on matters of national security including counterterrorism policy, bilateral security relations with a number of regional countries and Europe and the development of a national security policy for the Israeli national police.
He is the author of International Homeland Security: Global Lessons (Wiley and Sons, 2011) and has authored numerous articles and book chapters on terrorism, strategy and the Middle East. Nadav is also the 2009 recipient of the LCDR David L. Williams Outstanding Professor Award from the Naval Postgraduate School.
Nadav holds BA and MA degrees from UCLA and a PhD from Tel Aviv University, where he served on the faculty for nine years.