[Back]
Faculty
Patrick Buzzini
Associate Professor
Ph.D. Forensic Science, University of Lausanne, Switzerland (2007)
M.S. Forensic Science, University of Lausanne, Switzerland (2001)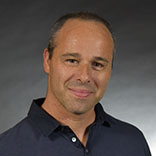 Office: CFS-221G
Phone: (936) 294-3633
Areas of Expertise:
Trace Evidence, Questioned Documents, Physical Evidence Interpretation
Biography:
Dr. Patrick Buzzini recently joined the faculty of the Department of Forensic Science at Sam Houston State University as an associate professor in forensic science. Dr. Buzzini obtained a four-year degree in forensic science and then a doctoral degree, magna cum laude, also in forensic science from the oldest forensic science academic institution in the world, the University of Lausanne, in Switzerland. In 2007, he joined the Forensic and Investigative Science Department at West Virginia University where he served as a senior lecturer, a teaching assistant professor and then a clinical assistant professor. In the last years, he developed courses in criminalistics, trace evidence, questioned documents, and physical evidence interpretation at both undergraduate and graduate levels. Dr. Buzzini organized workshops and training sessions to practitioners in the field (i.e. forensic laboratory personnel) nationally and internationally as well as continuing education courses to the legal community (defense counselors, prosecuting attorneys, and judges). He serves as a forensic advisor and mentor for the International Criminal Investigative Training Assistance Program (ICITAP) of the US Department of Justice since 2011. He has authored and co-authored more than twenty publications in peer-reviewed journals with emphasis in trace evidence. He has also authored or co-authored fifty oral and poster presentations to forensic conferences nationally and internationally.
Dr. Buzzini is a fellow of the American Academy of Forensic Sciences (AAFS), a member of the American Society of Trace Evidence Examiners (ASTEE), the International Association for Identification (IAI), and was an active researcher to the European Textiles and Hair Group (former European Fibre Group) as well as the European Glass and Paint Group of the European Network for Forensic Sciences Institutes (ENFSI). His research interests include the forensic applications of microscopy and spectroscopic methods (i.e., Raman spectroscopy) to various types of trace evidence and questioned documents as well as problems of physical evidence interpretation. Dr. Buzzini is also a consulting forensic scientist.
Research Interests:
My research interests include the forensic applications of microscopical and spectroscopic methods (i.e., Raman spectroscopy) to various types of trace evidence (e.g., paint and fibers) and questioned documents (e.g., ink analysis). I am also interested in problems of physical evidence interpretation.
My main previous research was concerned with the application of micro Raman spectroscopy in trace evidence. For example, my doctoral work was on the discriminating analysis of fiber dyes using this technique. I have applied the Raman method to paint specimens for the identification of pigments too. Some of the questions that I am interested in is how this technique responds to samples made of mixtures of dyes or pigments, and how it complements other methods such as microspectrophotometry or infrared spectroscopy.
Another example of a current study is the characterization and discrimination of inkjet printer inks using Raman spectroscopy, based on samples provided by the US Secret Service. Another recent project involves the study of container glass and particularly the differences of refractive index measurements between external surfaces and the bulk of glass objects.