[Back]
Faculty
Jurg Gerber
Professor
Ph.D. Sociology, Washington State University (1988)
M.A. Sociology, Washington State University (1984)
B.A. Government, Eastern Washington University (1982)
A.A. Social Sciences, Big Bend Community College (1980)
K.F. Insurance, Kaufmaennische Berufsschule Bern (Switzerland) (1977)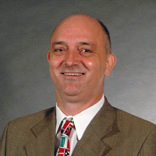 http://www.cjcenter.org/abroad/
Office: CJ Hotel Building 222
Phone: (936) 294-3172
Areas of Expertise:
Comparative/International Criminal Justice Issues, Criminology, Drug Use and Drug Control Policy, Environmental Crime, International Criminal Justice, White Collar/Corporate Crime
Biography:
Dr. Gerber has been a member of the College's Faculty since 1990. Formerly the university's Director of International Programs (2001-05), he has held a number of other administrative positions including, Associate Dean for Academic Administration (1998-2000), Assistant Dean for Graduate Programs (1997-98), and Assistant Dean for Undergraduate Programs (1994-97).
Gerber's specialty areas of expertise include criminology, white collar crime, drug policy, and comparative criminology. He has co-edited two books on drug policy and has published on white collar crime, comparative criminology, and criminal justice education.
Gerber's vast international travels and professional experiences include international visiting professorships in Switzerland as well as a Fulbright grant in Kaliningrad, Russia. He has delivered a number of invited lectures in Poland, Germany, Korea and Japan and has served as an instructor for the International Law Enforcement Academy (ILEA) at Roswell, New Mexico since 2002. ILEA is a program which provides advanced criminal justice management instruction for mid-to-senior law enforcement officials from around the world, exposing them to American society and institutions.
Gerber has consulted with a number of criminal justice agencies, served as an external reviewer of academic departments, and has also been the co-recipient of eleven research and service grants totaling more than $250,000.