[Back]
Adjunct/Lecturer
Cutty Gilbert
Adjunct
M.A. Criminal Justice & Criminology, Sam Houston State University (2003)
B.S. Criminal Justice, Sam Houston State University (1996)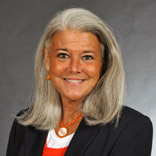 No Vita
http://www.cjcenter.org/alumni/
Office: A-113
Phone: (936) 294-3755
Biography:
Cutty Gilbert is the Director of Development and Alumni Relations for the Criminal Justice Center. In that capacity she manages the college alumni relations, scholarships and endowments, development events and conference support, as well as public relations. She has also served as a member of the Adjunct Faculty since 2005.
Formerly she served as Coordinator for Law Enforcement Management Institute's U.S. Marshal Service Executive Development Program and worked with the National Institute of Victim Studies as a research assistant. She came to Sam Houston with 14 years of legal work experience.
Ms. Gilbert serves on numerous University committees and is a former member of the Board of Directors of the SHSU Alumni Association, serving 12 years and a former member of the SHSU Athletic Advisory Board.